Corn cheese garlic bread. In this garlic bread recipe video, I show You, how to make garlic bread in very easy way. Garlic bread stuffed with corn and cheese. On occasions, you can also make this cheesy.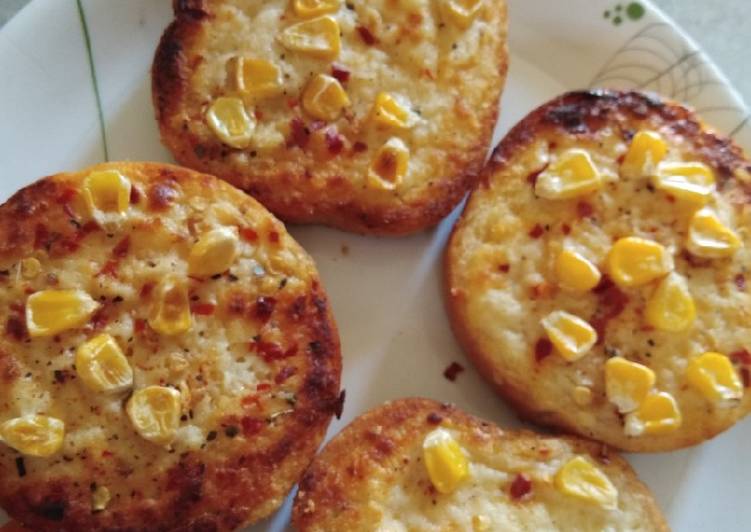 A dash of red chilli flakes gives it a nice flavour, making it worthy of munching independently with or without a. Garlic-Cheese Flat Bread. this link is to an external site that may or may not meet accessibility guidelines. Cheese Garlic bread recipe is one of the most favorite recipes for foodies. You can cook Corn cheese garlic bread using 10 ingredients and 4 steps. Here is how you cook it.
Ingredients of Corn cheese garlic bread
Prepare 4 of Bread slices.
You need 2 tbsp of butter.
It's 2 tsp of garlic paste.
Prepare 1 tsp of green chili paste.
It's 1 tsp of chili flakes.
You need 1 tsp of oregano.
It's 2 tbsp of processed cheese grated.
Prepare 1 tbsp of mozzarella cheese grated.
Prepare 1 tbsp of oil.
You need 1 tbsp of boiled sweet corn kernals.
I love garlic bread and Pizza hut is one of my favorite point to get it. As I am a foodie and have great zeal to try recipes so I tried this recipe at home in my kitchen and it has given me a perfect taste in a very short time. their vegan cream cheese spread is delicious. Garlic bread can be a great addition to you dinner. These days, it seems easiest to just go to the local supermarket and pick up a loaf of garlic bread.
Corn cheese garlic bread step by step
In a mixing bowl, add butter, garlic, chilies, chili flakes, and oregano..
Apply it to the bread. Grateed process and mozerella cheese also, add some corn kernals..
Put on hot tawa with oil and and cook till cheese melt..
Serve hot..
Garlic bread is a staple pasta dinners in out house, and I figured why no combine the best of best works! I made some adjustments to a typical carbonara recipe by slightly increasing the cheese, adding garlic to the wine reduction, and topping it with crispy buttery toasted garlic bread crumbs. How cute are these candy corn cheese bread slices! When I saw this recipe being prepared at a preschool I thought it was just the neatest lil idea. In a bowl combine Parmesan cheese, garlic powder, onion powder, garlic salt & oregano.